As part of the Cloudmore ongoing improvement program we have recently migrated our outbound email service to Sendgrid.
This will provide you with an improved service using DomainKeys Identified Mail (DKIM) when sending out branded emails from the platform. DKIM allows the receiver to check that an email claimed to have come from a specific domain was authorized by the owner of that domain. This will strengthen the process that branded emails sent from Cloudmore will not end up in spam filters.
As part of the migration, we require brokers who use the branded email feature to verify their domain so this can be used with DKIM.
The verification can be performed in the Cloudmore platform using the following instructions:
To complete the verification process, go to the Broker Menu > Broker > Branding > Branded Login and go to the Branded email section and enter the branded email address, and press Start Setup

Once complete the domain will have been created with Sendgrid but is not verified.
Status will show as "Domain not verified".
Email address is now locked, and the domain name cannot be change
CNAME records will show the user which records the customer needs to create
The user now has a number of options
Verify button to ask SendGrid to verify the domain.
Change address will open change email popup modal.
Delete domain will delete the domain with SendGrid and revert to the default view.

Press Verify
If successful status will change to verified against all records


If unsuccessful the status column will show what was verified and what was rejected. An error message will show what needs to be amended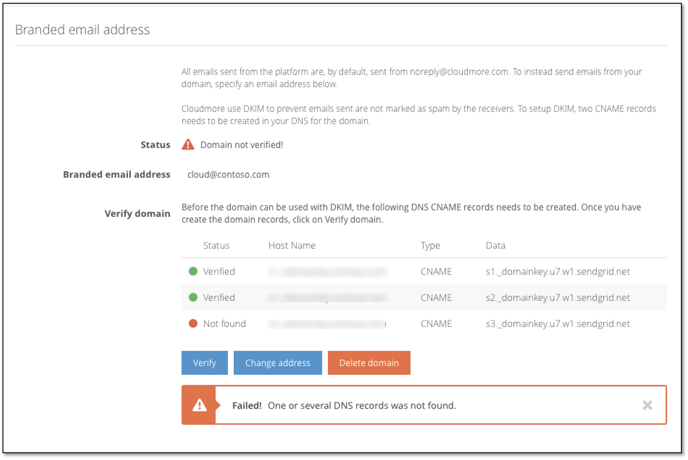 To obtain the full guide for Branding the Cloudmore platform please visit our Knowledge Base article here https://support.cloudmore.com/knowledge/how-to-add-company-branding
If you have any questions regarding this process please log a support ticket at support@cloudmore.com