Learn about the new product groups and SKUs updated on Cloudmore as part of the Microsoft New Commerce Experience (NCE) .
Product Groups
NCE Cloudmore has introduced an improved list of product groups to make it easier to find the product you're looking for. All NCE products are found in the product groups that start with "NCE" and the legacy can be found under the old product groups that begin with "Legacy". These are the new product Groups: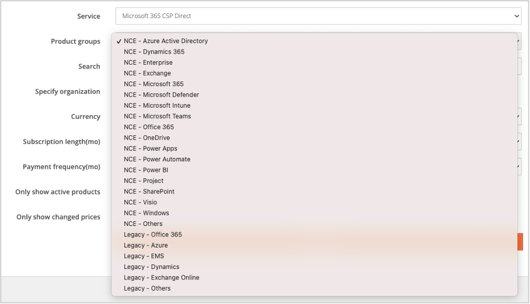 Updated Product SKUs
With NCE, Microsoft no longer uses the long GUID type of "Offer ID" as the item code. Instead, a new item code structure has been introduced. A product with a different subscription length and payment frequency shares the same Microsoft Product ID and Microsoft SKU, so Cloudmore has introduced a system to amend the item code with the terms.