Starting from 1 January 2023, partner margin will no longer be offered on reservations. However, partners will continue to receive the current Azure incentives in place of reservations.
Reservations purchased prior to January 2023 will have the margin at the time of purchase honored throughout the balance of the reservation term. Reservations paid monthly won't be impacted either; the margin is set based on the date of purchase.
A renewal is considered a new purchase and will reflect the pricing at the time of purchase. If the renewal occurs after January 1, 2023, the updated pricing will take effect.
How does this change affect Cloudmore?
Cloudmore logic will take the reservation price adjustment effective at the date of Azure plan reservation purchase or renewal and apply it throughout the whole billing term. It means this adjustment is 'locked' for this reservation, and any future price adjustment changes will not be applied to it.
Example:
Azure RI adjustment_1 set at 15% on 1.12.2022, 2 reservations bought on 15.12.2022, unit price = 100$
New Azure RI adjustment_2 set at 20% on 1.01.2023, 1 reservation bought on 5.01.2022, unit price = 100$
For January invoice calculations (billing cycle 6.12.2022 - 5.01.2023):
2 * (100 + (100*0,15)) = 230$
1 * (100 + (100*0,20)) = 120$
To make sure that you have the correct adjustment % or price to be applied to your next invoices, please check your active reservations' start dates and the historical adjustments that should apply to them.

You can find a reservation subscription start date either on 'My Reserved Instances' page (My services → Microsoft Azure → My Reserved Instances) or in your reconciliation file from Microsoft Partner Center.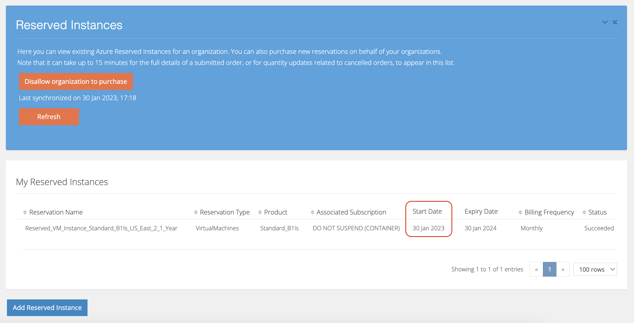 To check history of adjustments on a broker or organisation level, go to the 'Price Adjustment' page in your Microsoft Azure service (My services → Microsoft Azure → Price Adjustment) and select Actions - History.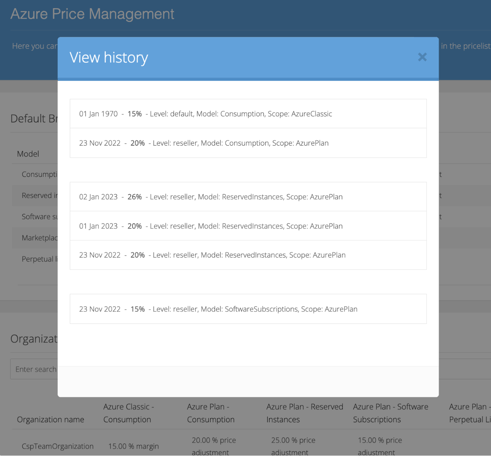 If you'd like to make a change to the price adjustment %, at the Price Adjustments page select Actions - Edit price adjustment on the Broker or Organisation level, and enter the desired adjustment for the subscription start date in the past. This adjustment will then be considered active from the date you selected until the date of the next historical adjustment.
This action will ensure the desired adjustment will be applied to all reservations bought on that date (if you set Default Broker adjustment) or to the Organisation's reservations (if you set Organisation adjustment).
If you are not sure, on what level you should set an adjustment or a price, look at following pricing hierarchy logic that Cloudmore uses for billing calculations:
Use Organization-level Price List Sales Price

If not set, use Broker-level Price List Sales Price

If not set, use Organization level price adjustment

If not set, use Broker Level price adjustment

If not set, use MS Cost Prices (which are the same as Suggested Prices)


Find more information on Azure price management here How do I manage my Azure Pricing?
Every time you change the adjustment, then 2 most recent invoices will be regenerated.