The information needed to integrate your CSP Direct tenant is contained in this article. Once you have completed these steps your existing customer tenants will show in Cloudmore.
1: Add the 0365 CSP direct service from your marketplace
Navigate to your Cloud Service Broker menu then click on Marketplace
Locate the Microsoft O365 CSP Direct service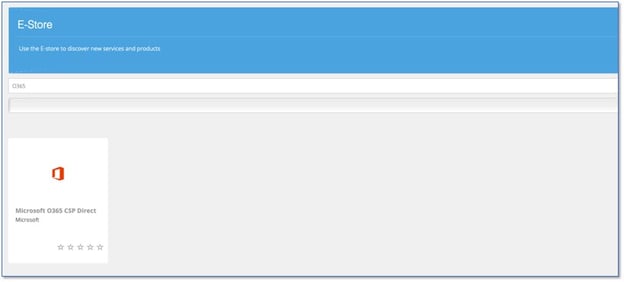 Click on service and follow on-screen instructions to add into the E-store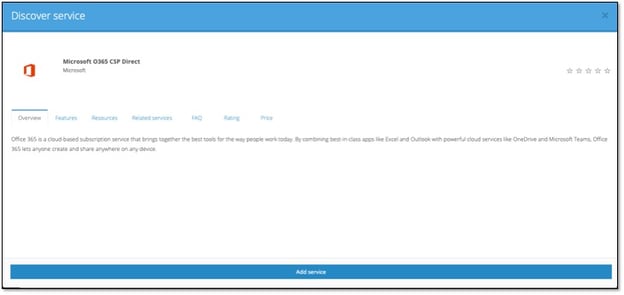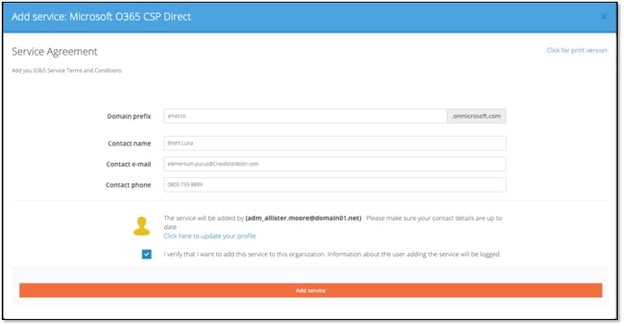 2: Find your partner tenant ID
Sign in to the Microsoft Partner Center
Navigate to the Dashboard
Go to the Settings 'Cog' on the top menu ribbon and go to the Azure AD profile option. The tenant ID is shown in the Microsoft ID line
3. Enable the Microsoft CSP Authentication
Please note that when enabling or refreshing Authentication Keys that you must use the cloudmore.com URL to perform this, custom URLs are not applicable for this process.
Login to Cloudmore.
Go to Broker menu >My services> Microsoft O365 CSP Direct > Microsoft CSP Authentication.
When presented with the screen shown below, enter your Microsoft ID
Press Update, you will then be directed to the MS Partner Centre where you must sign in with a Global Admin account and you will be asked to grant consent for this process.
This will apply a token for a period of 90 days. At the end of the 90 days, you will receive a notification to warn that this has expired, and pressing Update will apply a new token.

4. Enable the Microsoft Customer Agreement
Go to Broker menu > My Services >Microsoft O365 CSP Direct >Settings and paste your Microsoft ID into Partner tenant ID

5. Auto Create and Link all Tenants
Go to Broker Menu > My Services >Microsoft O365 CSP Direct >Link Tenant to Organization.


Press Auto-create and link button this will create Cloudmore organization records for all your existing Microsoft tenants.