It is important to manage linking your 0365 tenants to organizations so you can see all your customers and their CSP services in Cloudmore. This enables you to manage adds, moves and changes, and allow your customers to self-service.
To get complete billing reports, that correlate with your monthly Microsoft invoice, you must make sure that all customer tenants are linked. Unlinked tenant's data will not show in Cloudmore reports making full costs and sales reconciliation impossible.
Follow the instructions below to learn how to Link O365 tenants to organizations.
Pre-requisites
You must have finished your CSP setup to complete this step.
You only need to link tenants when new customer's tenants are created via the Microsoft Partner Center. When new tenants are created via Cloudmore this process is automatic.
1. Go to Microsoft O365 CSP direct
Log in to Cloudmore. Navigate to your Broker menu > My services >Microsoft O365 CSP direct.
2. Link Tenant To Organization
Click on Link Tenant To Organization.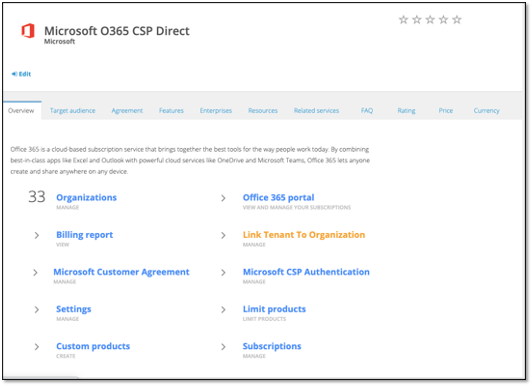 3. Tenant alert
Cloudmore will discover all existing CSP tenants and will show an alert highlighting the number that are not linked to an organization. You should regularly monitor this alert to make sure all tenants are matched as unlinked tenants will not show in the billing reports and Cloudmore will not generate billing data for these customers.

4. Find a tenant
This will display the tenants that we have discovered in your partner center.
Tip: Use the filter to find a specific Tenant Record.

5. Create a new organization record from the tenant
Choose the tenant and then click the + Create icon under Actions.

The fields will pre-populate with data from the partner center.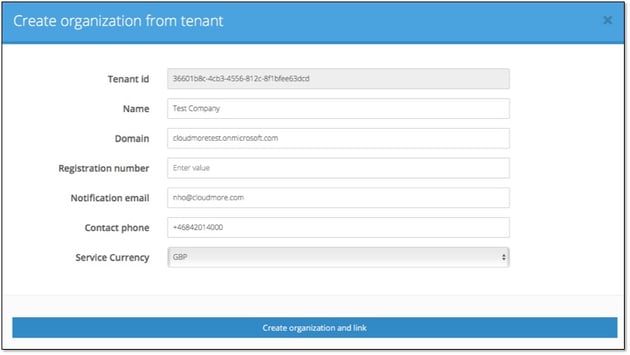 Complete any missing date and click create organization and link.
| | |
| --- | --- |
| Name | Full Customer Name |
| Primary domain | The main domain name used by the customer. Do not enter HTTP or www |
| Registration number | Company ID or Tax ID. If you do not have this you can leave this field empty |
| Notification email address | Email address where Cloudmore notifications for this customer should be sent |
| Contact phone | Phone number |
| Service Currency | The currency that payments will be received from the Organization |
6. Link a tenant to an existing organization record
Click the

Link icon under Actions. Click the drop-down menu and pick the organization record for this tenant, then click Link.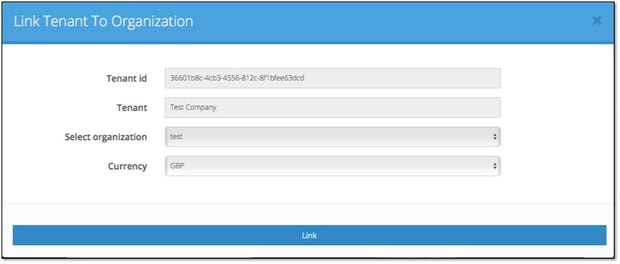 You have now linked the tenant to an organization.
Repeat this process for each of your existing CSP tenants.
7. Auto-create and link
The Auto-create and link button will automatically create organization records for all Microsoft tenants and automatically link the tenants to the organizations in Cloudmore.

8. Unlink an organization record from the tenant
Choose the tenant and then click the Delete icon under Actions and confirm the removal of services from the organization and unlinking of tenant id. Unlinking a tenant will remove all CSP services from the organization