The security center helps you to prevent, detect and respond to threats.
Here are some of our security features:
Notifications: Receive alerts when someone logs into the platform. You can choose to receive notifications when internal administrators, or a customer's administrators access Cloudmore.
Multi Factor authentication: Add an extra layer of security to your Cloudmore accounts to ensure that only authorized people can access the platform, even if they know their password.
IP Filtering: You can restrict the range of IP addresses administrators can log into Cloudmore from. Once IP address restrictions are set up, Cloudmore will deny logins coming from unknown IP addresses. These restrictions help protect your data from unauthorized access and phishing attacks.
Single Sign On (SSO) SSO will enable you to manage your users and their level of access to Cloudmore in one central location. Advanced password rules or multifactor authentication (MFA) will be required.
Follow the instructions below to learn how to set up the security center
1. Go to your security center
Log into Cloudmore. Navigate to your Broker menu > Broker > Security center.
2. Configure your settings
Tick the options that you want to activate.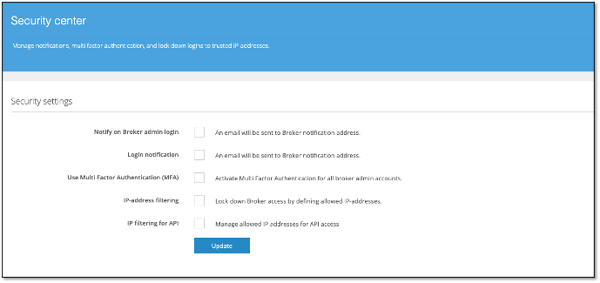 Notification: Tick the events that you want to receive e-mail notifications. The notification will be sent to the email address entered in the reseller property notification e-mail.
Notify on Broker admin login: A notification will be sent when a broker administrator accesses Cloudmore.
Login notification: A notification will be sent when an organization admin accesses Cloudmore.
Multi-Factor Authentication: Enabling Multi-Factor authentication means that an additional numerical code is required to log in. This code is sent to either the user's email address or mobile telephone during the login process. The code will be valid for 30 days if the user logs in to the same machine. Apply a default MFA option for the code to be sent to, the detail will be taken from the user profile.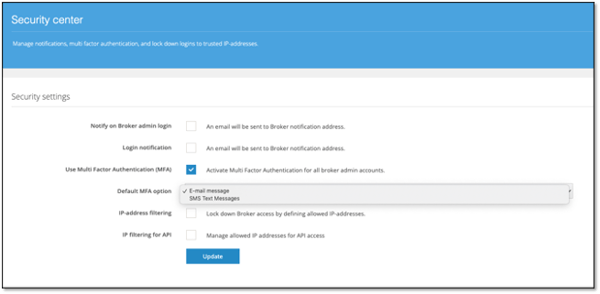 IP address filtering: Lockdown login access to specific IP addresses.
Enter the allowed IP addresses by clicking on the 'Add allowed IP address' button.
IP filtering for API: Lock down login access for APIs to specific IP addresses

3. Single Sign-on
To learn how to configure single sign-on, see our guide here.
We have added a new Single Sign-On (SSO) option enabling brokers and organizations to enforce users to use SSO. This toggle feature prevents users from using their own usernames and passwords to log in and is particularly useful when managing access around leavers.